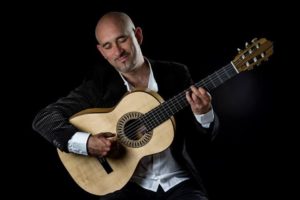 Paco Seco has a wonderful imagination and a real virtuoso's command of the fret board.               
He conjures a sublime melody from cascading campanelas and subtle rasgueados, always on the move. steeped in folklore old and new and echoes of his native spain. Brilliant!!!
                                                                                                                       Paul Martin, Mundo Music Gear.
"Paco Seco is one of the most virtuoso concert guitarists in Spain today. Versatile & creative, he posesses a unique technique. A fusion between the clear, crisp notes of the classical guitar and the instinctive passion & agility of the flamenco guitar."
He has developed a unique style of playing the guitar, an unusual blend between the clean cut sound of classical and deep-rooted flamenco guitar.  Consequently his compositions once played  are versatile and evoke fresh nuances, rhythms, cadences and strummings, closer to jazz than flamenco.  These diverse harmonies shape his personal playing style and therefore the music.
 His concerts are full of evocation, enigma, generosity and soul.
His music has taken him to the National Theatre in London, the Mediterranean Music Festival in Genoa, the Sarajevo Sevdah Festival, Buitengewoon Festival Doetinchem in the Netherlands, the Belem Cultural Centre in Lisbon, Tangier's Music Fête, The Circle of Fine Arts in Madrid, International Festival of Music & Dance in Granada, Elk Music Festival in Poland, the Royal Alcazar in Sevilla…. He has played in Croatia, Poland, Czech Republic, Bosnia, India, Morocco, Netherlands, England, Italy, France, Portugal and his native Spain.
Website: https://www.pacoseco.com/